Urge Congress to Support Funding for the Workforce Innovation & Opportunity Act (WIOA)
Reach out to your Congresspersons to Support Funding that Invests in Our Current and Future Workforce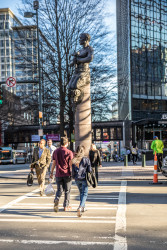 The current Administration proposes to invest larger sums of dollars into infrastructure. However, we've seen that not enough American workers were trained and retooled for such infrastructure investment opportunities. Support for the Workforce Innovation and Opportunity Act (WIOA) would help us reach the President's goal by supporting greater and targeted training and help rebuild America.
WIOA is Mecklenburg County's primary source of assistance to people facing barriers to employment through Charlotte Works and our partner agencies. This includes parents with childcare barriers, returning residents with criminal backgrounds, the disabled and those lacking post-secondary skills training for new job opportunities.
You can make a difference: call on Congress to support WIOA funding to meet the ongoing training needs and employment of millions of Americans.